The following candidates have been elected to the Har-Ber POA Board of Directors.
Position 1 Scot Jeffus
Position 2 Robert Stephenson
Position 6 Mark Towery
Position 7 Lance Eads
Many thanks to all the candidates and members who took part in this year's election!
An election will be held to fill four Board of Director positions. The following candidates are running for the following positions. Candidate bios included below.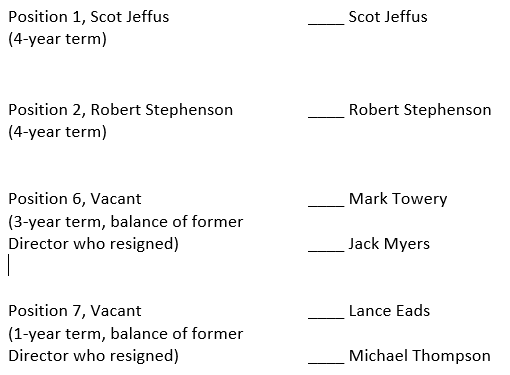 We are happy to announce the Har-Ber Meadows Property Owners' Association's Annual Meeting will be held on Monday evening, May 16, 2022, in Founders Park!
Signature Bank will again host a "cook-out" with hamburgers, hotdogs, and all the fixings from 5:00 until 7:00. They will provide tables, chairs, yard games, inflatable, and a P.A. system. Stop by Signature Bank anytime and be sure to let them know you are a Har-Ber Meadows resident. Other local businesses may participate and/or provide drawing prizes. We are fortunate to have these local sponsors who are committed to our community, and we urge you to express your appreciation to them.
An election will be held to fill four Board of Director positions. If you are interested in serving, please fill out the candidate "Make a Difference" form on the main page of the website located below community news. Forms are due by April 22. A list of nominees will be posted on the website at least 10 days before the meeting.
The meeting will begin at approximately 6:00 with the agenda consisting of an introduction, highlights of 2021 and a drawing for prizes. If you will be unable to attend the annual meeting and wish to vote by proxy, please contact the POA at john.d@managementiiillc.com to obtain a voting proxy.
Guest pool passes will be available at the meeting for property owners who are in good standing (having paid at least half of their annual dues). For your convenience, payments will be accepted at the annual meeting or may be mailed to 6750 Tall Oaks Loop North, Springdale, AR 72762. Those who have paid at least half their dues will have immediate access to the pool when it opens. After June 15 only those who have paid in full will be able to access the pool. All pool forms can be found at quicklinks/pool forms on the website.
For tenants to use the pool, property owners must be in good standing and must furnish the names of current tenants each year to the POA at john.d@managementiiillc.com. Names need to be submitted prior to accessing the pool.
Fishing in our lakes is limited to residents and their accompanying guests. To help know someone fishing is a resident, and not trespassing, the Board provides digital QR Code fishing permits that can be printed and attached to the back of a hat, shirt or jacket while fishing. Apply for permits at quicklinks/fishing permits on the website.
The Har-Ber Ducks Swim Team instructors will be available with information and sign-up forms.
We look forward to visiting with our neighbors at the annual meeting. Regular business board meetings are held throughout the year. Meeting dates are on the website calendar and members are always welcome to attend.
In the event of rain, you can vote at Signature Bank and pick up packaged meals.
Respectfully,
The Har-Ber Meadows Property Owners' Association Board of Directors

Saturday, April 16
The Annual Har-Ber Meadows Easter Egg Hunt will be held on Saturday, April 16. Meredith Porbeck will be organizing the event again this year. Thank you Meredith! Please drop off 12 pre-filled eggs per child by 9:00 A.M. at Founder's Park. The Hunt will start at 10:00 A.M. with 3 different age categories.
Age Categories
• 0-2 years
• 3-6 years
• 7-12 years
Volunteers are needed and encouraged to help decorate, organize raffle prizes and hide Easter eggs beginning at 9:00 A.M. Breakfast will be provided for volunteers. Prizes will be donated by the Har-Ber Meadows POA and other Har-Ber Meadows commercial residents. If your company or business would like to donate pre-filled eggs or prize baskets (adult or child) please contact Meredith or Elaine Wheat at (501) 425-0143 with any questions or to volunteer. The Easter Bunny will be making an appearance for pictures and to visit the children.
Hope to see you there!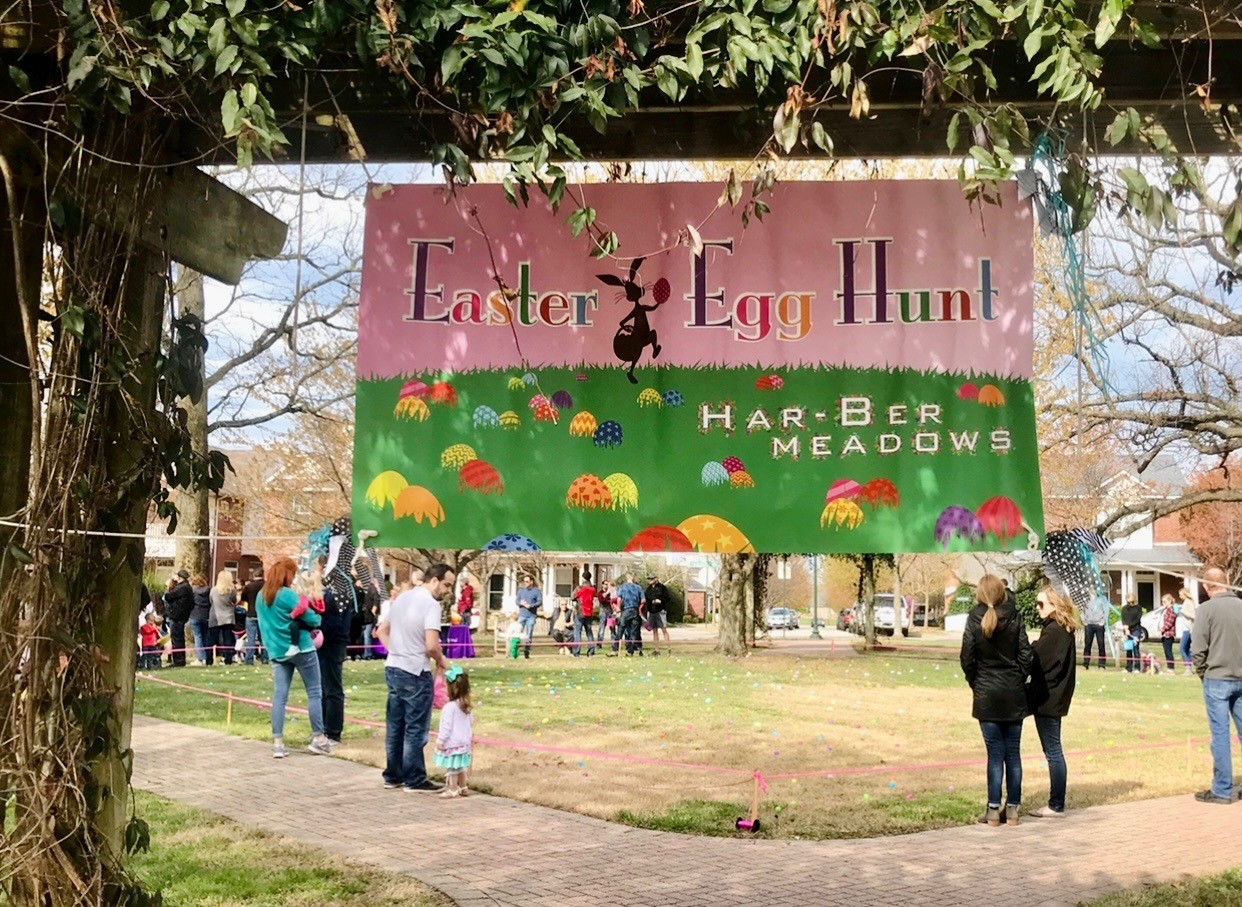 The pool will be closing for the season on Saturday, September 11 at 8:00 PM. See you next summer!
Dear Har-Ber Meadows Residents,
Please help in addressing the following covenant and safety concerns. Thank you for your help in keeping our neighborhood looking safe and beautiful!
Landscape

The freeze this spring was harsh on landscaping throughout Har-Ber Meadows. Many residents have replaced dead trees, plants and shrubs. If you have not done so, please address this as soon as possible.

ARC Application Instructions: Go to www.harbermeadows.org. Click the Applications Link/Architectural Review Committee Application. Follow the instructions and your application will be emailed to the ARC Committee members for approval. You will receive communication from the committee via email.

Fences

Many of our wooden fences are in need of repair. Wood fences require maintenance to preserve them. Wood fence maintenance requires board and frame repair, clean and seal or stain from time to time to keep them looking good and to protect the wood from cracking, warping, or bowing caused by UV rays and weather. Wood fence maintenance will help preservation and is a covenant requirement.

Golf Carts

Recently, there have been multiple accounts of young children driving golf carts on the streets and sidewalks that have had near misses with vehicles. Police will be patrolling in hopes to prevent an accident.
Har-Ber Meadows is a great community because of the residents. Enjoy the remainder of summer!
Warmest Regards,
Har-Ber Meadows POA
The Harber Meadow's Property Association Meeting will be held on Monday evening, May 24, 2021 in Founders Park. There will be an election to fill two Board of Director positions. Residents who are in good standing and wish to cast their vote will be able to do so in Founders Park from 6:00 P.M. to 7:00 P.M. In the event of rain, ballots will be received inside the pool house. The following residents are candidates for Monday's election.
Rob Lyall
Candidate Bio
I have lived in Harber since 2005 and currently live at 623 Clinton circle. I have served on board the last 4 years as treasurer.
Joe Dunn
Candidate Bio
Have lived in HarBer 10 years. Retired design engineer from Southwestern Bell Telephone. Served 38 years in the Army retiring as Command Sergeant Major. Former chairman of the board of Washington Water Board (6 years): 9+ years as passenger conducted on the local excursion train, Vice President American Red Cross, former Mayor of Johnson, state director of communications for Souther Baptist disaster relief. Hold Extra class ham radio license as well as a commercial radio license. 3 years as President of Board of Abilities Unlimited.
Married high school sweetheart (64 years) 2 children daughter (Doctor) son General Mgr. Steel Products. 5 grand children.
Michael Thompson
Candidate Bio
I am married to Carol for 44+ years and we have 3 sons and 7 grandchildren. We moved to Har-Ber from Waco, Texas eight months ago and live on Wells Circle. My wife and I are both retired. Some of my qualifications include:
- Retired Army Officer 22 Years active duty
- Retired Public School Teacher 2016
- City Councilman City of Groesbeck Texas (2016-2020)
- BS/MBA McNeese State University (1987)
- Army Command & General Staff College, Ft. Leavenworth (1997)
- President, Groesbeck Economic Development Corporation (2017-2020)
- Vice-Pres. Heart of Texas Council of Governments (2019-2020)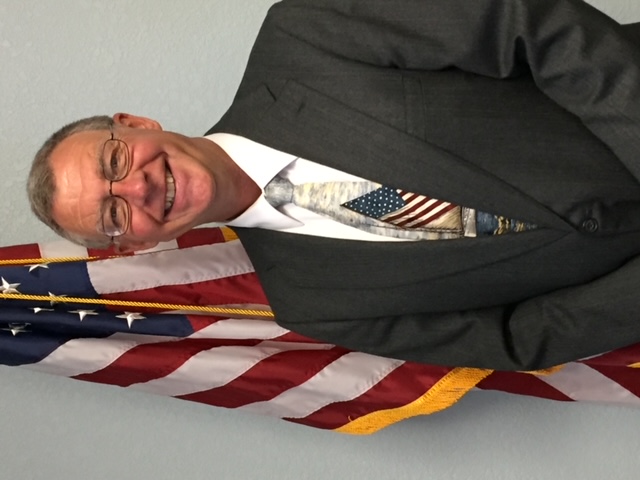 Dear Residents of Har-Ber Meadows,
We hope this finds you doing well and staying safe! As we are coming into Springtime, the POA Board thinks it is essential to send out an update to help keep our residents appraised of what is going on in our neighborhood. This past year has been unlike any other in our lives, but Har-Ber Meadows continues to remain strong.
Some of the achievements which occurred in the past year include the following.
Biologist lake survey completed
207 fish habitats installed in lakes to help the growth and health of fish
Founder's Park bridge railing replacement
Park equipment installed, including new benches and tables
Brick paver repair
Renovation of a new entrance sign
New fencing installed
Botanical garden installation
Crump Packer Park hammock poles installed
Pool House water fountains replaced
Front entry fountain replaced and upgraded
Planted 19 new trees in various common area locations
This is just a small list of items that were approved and completed by the Board this last year. As we continue into 2021, we will send out additional updates to our residents to let you know of items being considered and accomplished by the Board.
We are currently working on some new items relating to improving the Har-Ber Meadows website. We have added an SMS text message system through our website. Residents can subscribe to receive neighborhood and event announcements as well as emergency alerts straight to their cell phones. To subscribe, you can find a link on the Resident's Dashboard or if you are logged into the website you can find a direct link here. We recently put this system to good use when we sent out an emergency alert to subscribed residents concerning a vicious dog that had attacked a resident that was on the loose. We would encourage all residents to sign up for this feature because we know not all residents receive timely messages via email. 
We are also developing a library of topics that will be perpetually added to and updated. We are calling this a knowledge base, which consists of a central place to search links to neighborhood-related information, documents, and answers to frequently asked questions all in one place. When logged in to the website, this feature will appear as a top menu link for residents to quickly find answers to common questions. This feature is not yet available but is expected to go live soon. We will to introduce topics slowly over time, with a few topics being added each month. The idea is to develop a comprehensive resource for our residents over time. So please be patient as the knowledge base expands. Additionally, if you have any ideas or improvements to the information provided, there will a link to communicate your ideas or comments to the Har-Ber Meadows Communications Committee. Currently, content is being developed for topics related to the architectural review committee, pool, lakes/ponds, reservation system, waste management, and trees.
We continue to plan for our annual Har-Ber Meadows meeting, which will take place in May. However, since we are still under the cloud of COVID, this process will be different. We will continue to work with state guidelines, our neighborhood businesses, and sponsors in hopes of providing a safe environment for all to participate. We will have two Board positions open this year, and for those who are interested in serving, we suggest filling out a Board Position Candidate Application for consideration. You must be logged into the website to fill out the application. A link can also be found from the Resident's Dashboard.
We want to say thank you to all our residents for helping to keep Har-Ber Meadows the greatest place to live in Springdale, and we hope to see each of you soon at our annual meeting.
The Har-Ber Ducks is a developmental swim team for the Har-Ber Meadows community and surrounding area. Ages 5-18 are welcome to participate. The program's goal is to teach swimmers competitive swimming skills in a low-pressure environment. Practices will be held at the Har-Ber Meadows pool and begin June 2. Time and location of dual meets will be announced on May 15. See attached flyer for more information.
Register online at https://www.teamunify.com/team/arracah/page/swim-school-registration
For additional information on the Har-Ber Ducks, please contact John Moseley at John@AquaHawgs.org.